06/09/2017
F.A.B. Retrospective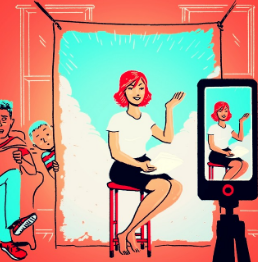 IT'S BEEN A F.A.B. YEAR with

5 F.A.Bs
62 Fishpond Bursaries Awarded
19 Prize Categories
26 Top Winners
36 Spot Prize Winners
8 School Scholarships
100s of free months
and still counting...
---
It's hard to believe it's been over a year since we launched the very first Fishpond Actors' Bursary in June 2016. We've been blown away by the 100s of talented actors who took part and we've loved watching each and every video….As a result, more Fishpond profiles than ever now have a video attached which means casters feel more confident auditioning actors they don't know.
THAT'S A WHOLE LOT OF F.A.B. TALENT FOR CASTERS TO SEE!
In case you've been hiding out (or have recently joined Fishpond), F.A.B. a.k.a Fishpond Actors' Bursary, calls on actors to record a short scene for camera using Auditioncam to be in with a chance to win some fantastic prizes. Winners get a FREE FULL YEAR'S SUBSCRIPTION, there's also spot prizes, and everyone that enters gets a free month on Fishpond.
---
The Fishpond Actors' Bursary is especially perfect for ACTORS who have been meaning to record a scene or get a showreel put together, as the Fishpond Team happily adds their clip to their Fishpond profile for them. For CASTERS this is fab (as in fabulous) because they are more likely to invite an actor to audition in person or through Auditioncam if they already have recorded scenes on their profiles. Learn More About F.A.B.
---
CHECK OUT THE FULL LIST OF CATEGORY WINNERS
F.A.B. For Scenes that inspired our actors to follow their dreams
F.A.B. For Gaeilgeoirs (scenes in Irish language)
F.A.B. For Comedy
F.A.B. For Drama
F.A.B. For Pondlings
---

SCHOOL SCHOLARSHIPS

8 scholarships and counting... Fishpond loves supporting the next school of pondlings. We are partnered up with several drama schools for young actors. FOR EVERY STUDENT SCHOLARSHIP THEY AWARD WE MATCH IT with a year's Fishpond Subscription! If a drama school you know might be interested in getting involved, ask them to drop us a line.

---
* AUDITIONCAM * FISHPOND'S SELF TAPE SOFTWARE
F.A.B.s were recorded using Auditioncam, a revolutionary new tool for casting directors and actors. Live audition tapes can be created and sent on demand, right from your mobile, laptop or computer!
Watch Our Demo Video To Learn More